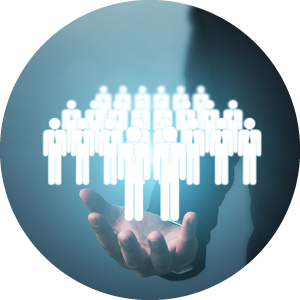 TYO-7-004
TLL-7-014
SZX-7-015
TLV-7-016
SCL-7-020
Proposals for new personal-data-oriented services for information banks
The information bank conducts personal data management business based on contracts or agreements for personal data utilization with individuals by making use of systems and personal data provision business based on instructions by the individual or conditions specified in advance to third parties (other business operators) through validity verification on behalf of the individual.
To develop new services for information banks, we would like to call for business partners with the capability to:
1. Collect personal data, 2. Visualize the collected data, and 3. Handle the personal data in business operations.
Social challenges to be addressed through collaboration

To smoothly circulate a large amount of various kinds of data including personal data, schemes for promotion of data circulation/utilization under personal engagement (e.g., information bank) are effective.
For the information bank, activities have started for cross-sectional data utilization, and active measures will be taken in cooperation with other business operators and the government to make the activities lead to the achievement of the objective in society.
Market size of collaboration business or business scale

We are aiming at establishing the business scale of 2 billion yen in FY2021.
Assets and opportunities to be offerred

・Relationship between the Financial GITS Division and domestic large-scale financial institutions available
・Knowledge about substantive experiments for services implemented on information bank platform services