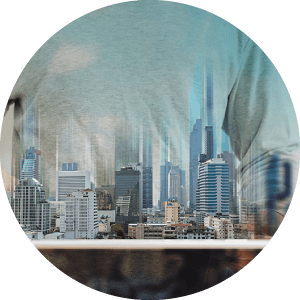 TYO-5-006
TLL-5-025
SZX-5-026
TLV-5-027
SCL-5-036
Internet real estate data matching service
It is intended to match data about land/buildings for sale/rent that are owned or managed by real estate companies, trust banks, and other similar agents, with data about those who are looking for land/building (presumed to be multi-store operators and business companies ) in order to promote business deals.
With manual data matching, there is a need to search the databases of real estate companies for land for sale and the selling conditions, then manually check the location, area, its applicable use, the requirements of the land owner, and other information about the land.
However, once data on land for sale is registered on a list, automatic Internet searches can be made of pages of real estate companies for such titles as "store site listing", and an automatic check can be carried out for items registered on the list which includes specified conditions on its pages, and a matching of the data with an appropriate land acquired.
The formats of data in "store site listings" of real estate companies and the specific of requirements of the searcher are probably different, therefore we plan to improve search functions by applying AI learning functions.
Automatic data matching has already been implemented for dwelling houses for rent/sale, but in all probability it has not been implemented in the field of commercial real estate, thus we are planning to implement such service for this field.
Related keywords

Keyword search

AI

Learning

Listing

Real estate tech
Social challenges to be addressed through collaboration

It is said that real estate deals are hard to finalize and the rate of closed deals is only 0.3% for all real estate deals. We intend to raise the rate of closed deals by means of IT power.
In manual matching, real estate companies will tend to first provide information about new real estate for sale/rent to existing clients and customers (sales persons trying to sell land know the requirements of those who are searching for land for sale, and attempt to make proposals within the extent of this knowledge), but as a secondary effect, gathering and matching data in wide scopes on the web may help find new customers.
For example, as an interesting hypothetical case, when a bank implements the service, the bank may be able to retrieve data from an in-house system about the credit standing of a company that is applying to make a purchase and then match this data with other relevant data.
We think that this service, which can provide valuable data about land for those who need land or wish to invest in land, will not only benefit real estate sellers and buyers, but also local governments, as it helps reduce land left unused and revitalize towns and business activities, which lead to increased tax revenues.
Market size of collaboration business or business scale

According to research by Japan Real Estate Institute, the scale of the real estate market was approximately 4 trillion yen in 2018.
Even with only 1% of all deals, the amount yielded is 40 billion yen. Real estate brokerage is 3% of the selling price +60 thousand yen per deal, thus the total amount of the brokerage amounts to approximately 1.2 billion yen.
We are planning to offer this service to e.g., real estate sales companies and trust banks in order to acquire monthly charges and rewards on deals closed.
Assets and opportunities to be offerred

・Our most important client is the Resona Bank Group, which gives us a strong business platform for customers. As distinct from other ordinary banks, Resona is able to handle trust business and conduct business relating to real estate. To Resona, we can make proposals based on our strong business connection with it. (Their sales team comprises several hundred people.)
https://www.resonabank.co.jp/hojin/service/kigyonenkin/hudosan/

・NTT Data Group has a great variety of expertise in the real estate business.

・NTT Data Smart Sourcing, which is one of NTT Data Group companies, is operating a search site dedicated to dwelling houses (http://kodate.home4u.jp/), which may be linked with/applicable to the service.

・It may be possible to plan a scheme to link the service with real estate management functions of our BizXaasMAP.
https://madore.glbs.jp/index.html