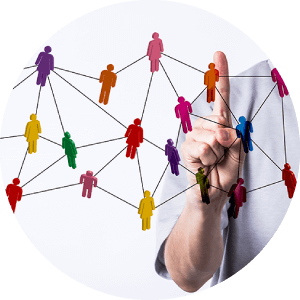 TYO-5-005
TLL-5-022
SZX-5-023
TLV-5-024
SCL-5-035
Service to integrate various sorts of available personal data and make it applicable to marketing
Matching between personal data/hobbies/tastes/life events and corporate offerings
Activities to collect personal data and make use of it are actively being conducted, but under the present domestic circumstances, restrictions are still imposed on how personal data is used, and only several substantive experiments have been launched by several companies only with their own personal data.
To cope with GAFA in future, we would like to call for ideas to integrate data gathered through many providers by individual, and analyze and utilize it for valuable application, and technologies to implement the idea.
Related keywords

Knowledge Graph

Ontology

Semantic Web

knowledge Base

AI

DBPedia

Wikidata

Enterprise Data Management

FIBO

EDI

Data Driven Economy
Social challenges to be addressed through collaboration

Target9:
Industry, Innovation and Infrastructure

Target16:
Peace, Justice and Strong Institutions

Personal data are personal assets that can replace money or credit. The present form of personal asset utilization in which personal assets are gathered in exchange for charge-free services, used to grow AI, and applied for unintended purposes will not be last long.
We would like to make a platform to make use of personal data assets from a totally different viewpoint in future.
Market size of collaboration business or business scale

10 billion yen in 2025
Assets and opportunities to be offerred

Participation in substantive experiments at a consortium at which Japanese largest-class enterprises meet
Collaboration with a company or enrollment in a platform