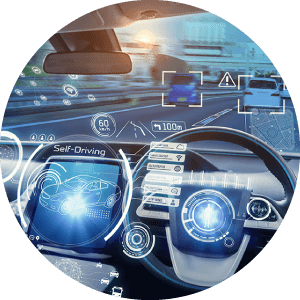 TYO-3-004
TLL-3-009
SZX-3-010
TLV-3-011
MUC-3-020
SCL-3-026
Social infrastructure technology to support efficient and ultrasafe autonomous driving society
Toward the realization of next-generation mobility society, competition is becoming severe in the fields of developing connected cars and autonomous driving. General passenger cars equipped with a connected function are already on the market and substantive experiments on Lv-4 autonomous driving cars have been conducted on public roads. In light of such circumstances, since NTT Data is developing platforms for connected cars in collaboration with domestic car manufacturers, we call for ventures capable of developing technologies to secure safe autonomous driving on the assumption that there will be millions or tens of millions of autonomous driving cars on public roads in the near future.
Examples of technologies we seek are as described below:
・Technologies to create and manage high-precision 3-D maps and technologies to implement dynamic maps efficiently
・Technologies to make high-precision inference for the positions of objects
・Technologies to make high-speed inference for a large amount of images
Related keywords

High-precision 3D-map

Dynamic map

Self-position estimation

Image inference

Deep learning

High-speed distributed processing

Edge-computing

Digital twin
Social challenges to be addressed through collaboration

We are aiming to solve social problems, i.e., help reduce traffic jams in urban areas, secure sufficient parking space, and provide easy access to transportation for those who do not have access to public transportation in the aging society, in order to realize a secure and safe automobile society.

Target9:
Industry, Innovation and Infrastructure
Market size of collaboration business or business scale

It is expected that 50% of new cars sold (approximately 48 million cars) will be connected cars in 2025, and the market size will expand to USD 160 billion. Likewise, it is expected that the scale of the global ADAS (Advanced Driver Assistance System)/autonomous driving system market will expand to approximately 82.50 million cars in 2030.
Assets and opportunities to be offerred

<Opportunitie>
・Opportunities to start business with domestic/foreign OEM companies


<Assets>
・Technology for development of on-board device integration/installation
・Technologies for large-scale distributed processing in cloud center