DCAP is an Open Innovation Assistance Program that provides business creation know-how tailored to the needs of individual companies through an open innovation forum.
In cooperation with startups with leading-edge technology all over the world, DCAP helps to create new businesses that cannot be realized only by in-house ideas. This program not only allows you to launch a business more quickly without relying solely on internal business development, but also assists you in a comprehensive manner from idea development in the startup stage to concrete details in the commercialization stage.
DCAP enables you to launch a new business in a more feasible way by making the most of the NTT DATA group's technology and know-how. We will provide all around support for business model development. A number of innovations have already been realized since the start of this program in 2015, and are having an impact on the world.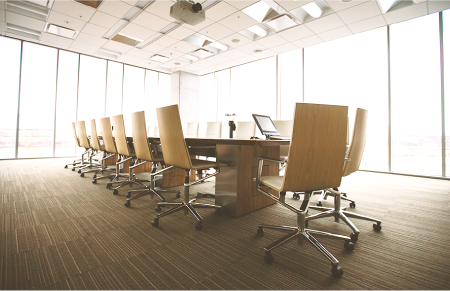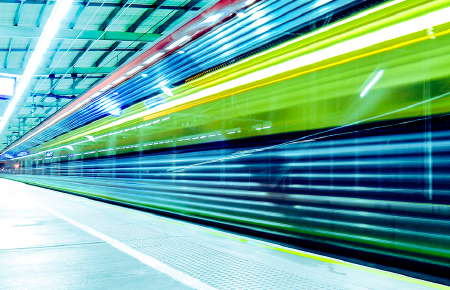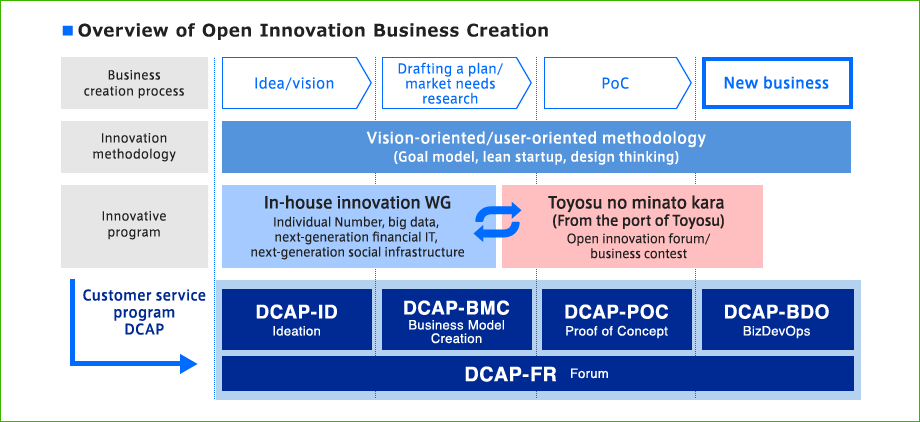 In DCAP, five programs covering various business creation scenarios are available.
DCAP will assist you in response to your needs through either a single or multiple programs.

DCAP offers various programs that support the acceleration of open innovations, as well as having abundant human resources and assets that revolve around launching a business.
INFORIUM Toyosu
Innovation Center

The INFORIUM Toyosu Innovation Center is a field for co-creating new business ideas through the experience of the latest future-leading technology described in NTT DATA Technology Foresight, a future forecast and analysis report about the trends of technology and information society. You can experience a demonstration of the latest technologies and look at future-creation contents in the display area. In addition, various facilities and tools that are easy to use in co-creation workshops are available in the Innovation Lab.

NTT DATA
Technology Foresight

Once a year, the Research and Development Headquarters of NTT DATA draws future trends on information and technology by analyzing changes within politics, economy, society, and technology. Furthermore, it has been developing technologies including AI, robots, and big data analysis. Its insights into the future and latest results of technology development can be capitalized in the development of new business.

NTT DATA
Relationship Builder

NTT DATA has contributed to the advancement of the IT industry by broadcasting its own expertise and insights into the future. We certify the employees taking on those roles as Relationship Builders (RBs). About 200 RBs have been providing information on technology, industry trends, and insights.

Innovation Creation
Methodology

The Innovation Creation Methodology is our original methodology for creating a new business, in which NTT DATA's past experience and achievements in new business creation are systematized. Various secrets and hints such as procedures for accelerating the business development process and templates of materials are organized systematically for your utilization.

everis NEXT

Information on startups from all over the world is crawled on the Internet and categorized every day. Information on more than 1.5 million startups has so far been accumulated, allowing you to run queries that are customized to your needs.

Open Service Development
Platform Altemista Cloud™

Altemista Cloud is a cloud-based development platform that allows you to develop a service with excellent agility. Use of cloud services allows you to develop services quickly with minimal structure. Moreover, this platform features high coordination ability with closed systems and easy porting from the development environment to the production environment.

Intracompany Innovation
Working Groups

The working group on business creation is a cross-functional team established in NTT DATA, which is specialized in the creation of new business. Cooperating with this working group will accelerate concrete actions toward PoC and commercialization of a new business idea.