The monthly "From the Port of Toyosu" event provides a forum for discussion on a set theme intended to serve as a trigger for the creation of innovative businesses.
Invites to attend the forum are extended to startups and customers of NTT DATA who have some connection with the monthly theme. NTT DATA employees who work on creating new businesses also join the meeting. The diverse participants discuss the creation of new businesses and form communities.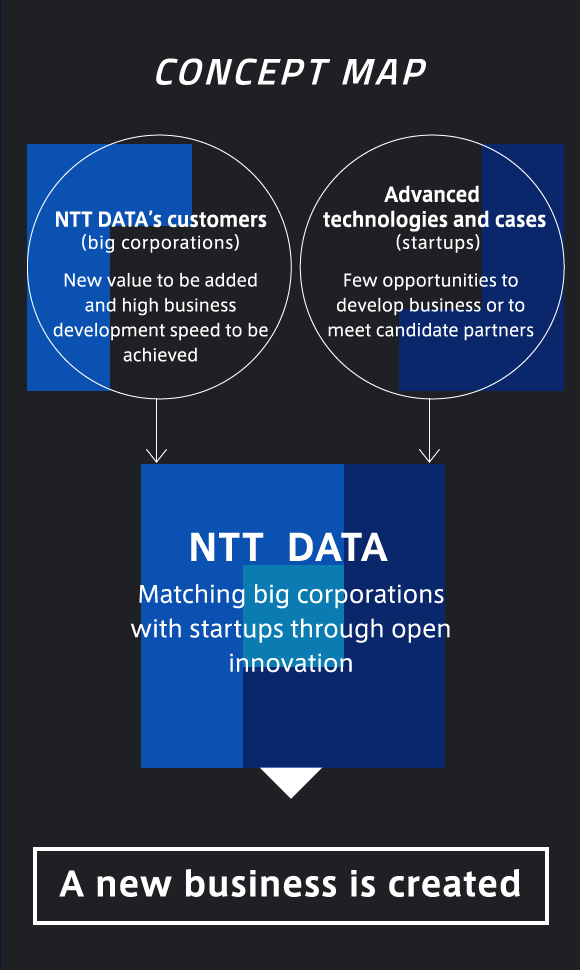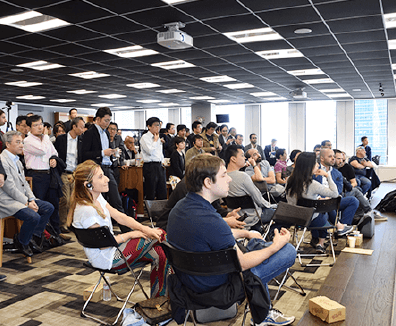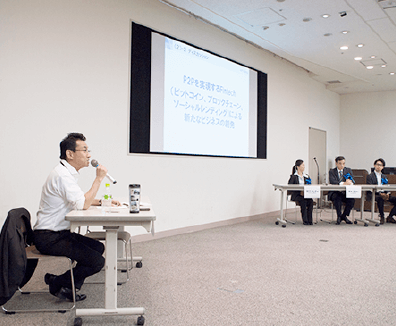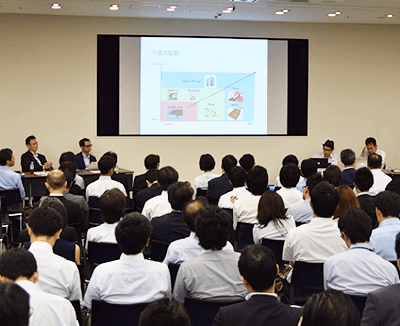 We post information and an invitation for entry approximately one month before each event.
Please note that each event's date, venue and content are subject to change.

Participants (invite-only basis)

・Startups
・NTT DATA's customers
・NTT DATA's employees (working on the creation of new businesses, etc.)
Main venue

Conference room on the 36th floor of Toyosu Center Building
Toyosu 3-3-3, Koto-ku, Tokyo
Timetable

Part 1 (18:30 - 20:30) Lecture and discussion
Part 2 (20:30 - 21:30) Get-together
Advisors

Leader of the forum

Shuichiro Yamamoto, Dr. Eng.

Professor, Software Science and Technology Group,

Department of Information Engineering, Nagoya University

Special advisor

Shuji Honjo

Visiting Professor, Tama Graduate School; Managing Director,

Honjo International

Special advisor

Koji Osawa

Managing Director & Co-founder

Global Catalyst Partners

Global Catalyst Partners Japan
Supporters

"From the Port of Toyosu" is supported by numerous customers of NTT DATA with an interest in the creation of innovative win-win businesses through open innovation. 
More info
Partners

Startups recommended by numerous companies, VC firms, startup accelerators, consulting firms, universities, and research institutions, proposed to play a role in creating win-win business scenarios 
More info
Alliance partners

The activities are operated in alliance with the following organizations and corporations:


・Kadokawa Ascii Research Laboratories, Inc.
・Japan Open Innovation Network
"From the Port of Toyosu" is a forum officially recognized by Japan Open Innovation Network.
・NTT DOCOMO Ventures, Inc. (NDV)
・Nexgate Inc.
・NTT DATA UNIVERSITY CORPORATION
・NTT DATA INSTITUTE OF MANAGEMENT CONSULTING, Inc.
Contact

"From the Port of Toyosu" office at NTT DATA Corporation
Note: Parts of the planning and operation are conducted under a contract with NTT DATA UNIVERSITY CORPORATION.