This program aims to identify projects originated by the best startups around the world, focusing on technology.
Every year a jury of NTT DATA executives, added to the main innovation hubs and large companies in the global market, come together to analyze the most innovative projects in several countries, aiming to support their entrepreneurs to implement their solutions.
This year, focusing on sustainability and ESG practices we will have the largest and most comprehensive analysis on technologies aimed at promoting Environmental, Social and Corporate Governance, so that we can build a better society with talents and use of technology responsibly.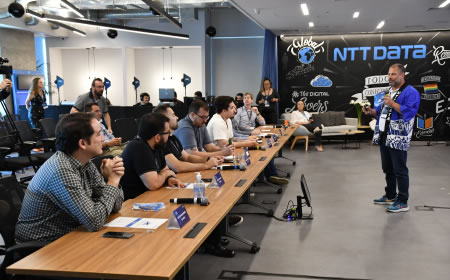 Result
Company Name / Description
URL
GreenPlathttps://greenplat.com/en/

GreenPlat is a Brazilian technology startup that offers a blockchain based SaaS for environmental management such as waste, water and carbon management bringing transparency, management and traceability. Currently they are monitoring more than 18,000 tons of waste/day with almost 700,000 companies registered on their platform. In 2018, GreenPlat was recognized by the World Economic Forum as Pioneers for the Third Generation of Blockchain.

https://greenplat.com/en/
Verdahttps://verda.global/en/

Verda is an as-a-service carbon footprint compensation platform. Through an API-based architecture, the platform provides the complete infrastructure for measuring and compensating the carbon footprint, in the form of a service, for companies that want to mitigate its impact caused by the emission of greenhouse gases, initially resulting from the transport operation.

https://verda.global/en/
Phycus

Carbon Neutralization Startup through the Cultivation of Macroalgae. Certify Blue Carbon through Blockchain and NFT. Its operation has environmental and social impact. They hire, train and pay the local community. They collect PET bottles in the local tourism to be reused for up to 120 days in the crops as floats for the seedlings increasing their exposure time and boosting their growth.

-
T&D Sustentávelhttps://tedsustentavel.com.br/en_us/

T&D Sustentável offers numerous innovative solutions that promote water management and savings. Including:
SEA - WATER SAVING SYSTEM
TDRR REMOTE MONITORING SYSTEM
INDIVIDUALIZED WATER SYSTEM

https://tedsustentavel.com.br/en_us/

If you have any question about the Brazil contest, please contact:

NTT DATA Brazil