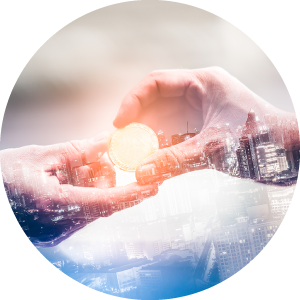 Proposals for services and solutions based on supply chain finance and blockchains
In China, under the financial inclusion (inclusive finance) policy, concerning challenges that middle-sized companies, small-sized companies, and very small-sized companies try to take on but cannot find financing for in a conventional way, people are making efforts to provide solutions by applying AI, IoT, and other digital technologies. In that situation, they start paying attention to the integration of logistics, inventory, and payment data in the entire supply chain life cycle span, as well as supply chain finance solutions well-grounded in accounts receivable and accounts payable.
Blockchain technology features a de-centralized system composed of various entities, schemes against falsification, automatic operation based on smart contracts, and other good properties, and thus is expected to be applicable to the supply chain finance business. NTT Data has been focusing on blockchain technology and participated in Hyperledger Project as a founding member, actively investing in programs for the construction of global technology development and collaborative organizations. NTT Data is nominated for a leader position in Avasant's Blockchain Services RadarView 2018 report.
We would like to call for venture partners who are able make use of our capabilities to create new services in collaboration with us in the China region.