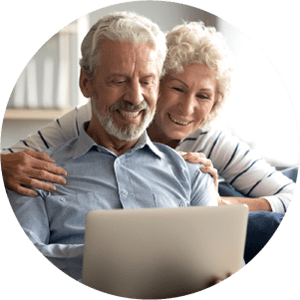 Partnerships for considering Financial Services for the elderly
The recent declining birthrate and the ageing population issue in Japan is becoming particularly evident in provincial areas.
Against the backdrop of such shifting demographics, financial gerontology is garnering attention. Financial gerontology is a field of study that examines extending healthy life expectancies and asset life expectancy, thus narrowing the gap between life expectancy, thereby enabling the elderly to enjoy living longer.
NTT DATA, as a company that enjoys business relationships with numerous regional financial services clients, is looking for a broad range of ideas as well as partners with the know-how and technologies to address these social issues.
Related keywords

Banks

Financial institutions

Ageing society

Super-aged society

Inheritance

Guardianship of adults

SDGs

AI

Big data utilization

IoT/Sensing
Market size of collaboration business or business scale

Inheritance market size: Estimated to be 50 trillion yen (Survey by Nomura Institute of Capital Markets Research)
Assets and opportunities to be offerred

・ PoC utilizing customer base represented by regional financial institutions and possibility of business deployment
・ Financial transaction data involving the elderly accumulated by financial institutions
・ Know-how for design/development/operation of a solid infrastructure like a banking system (Guidelines/assessment on the use of public cloud computing by financial institutions, consultation knowledge of an APN Premier Partner)
・ IT technologies such as AI