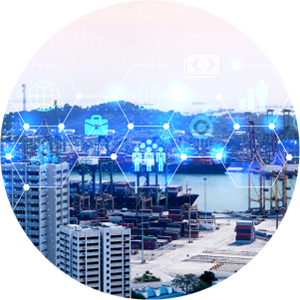 Services to develop regional economies with regional financial institutions
The expected role of regional financial institutions (shinkin banks, shinkumi banks, JA banks, etc.) which is pursing regional revitalizaion is expanding from a provider of financial services to the key driver of community revitalization. This is because the creation of autonomous virtuous cycles within their communities (circulation of funds and reinvestment) is considered critical to regional revitalization, and will result in the expansion of the trade area and furthermore to the growth of regional financial institutions.
Given such a changing environment, we are looking for ideas for new IT services that lead to community revitalization and partners who can examine the ideas together with NTT DATA and regional financial institutions.
We are considering services indicated below, whether financial/non-financial or involving urban/provincial areas.
・ Services for micro-, small and medium-sized companies
(real estate, small factories, local shopping areas, startups, etc.)
・ Services for laborers
・ Services that enable local residents to live with convenience and peace of mind, etc.
Related keywords

Regional revitalization

SDGs for regional revitalization

Overcoming Population Decline and Vitalizing Local Economy in Japan

Small and medium-sized companies
Market size of collaboration business or business scale

Target SME market size (3.5 million companies, 32 million employees, 130 trillion yen in added value)
Assets and opportunities to be offerred

・ PoC utilizing customer base represented by regional financial institutions and possibility of business deployment
・ Integration with financial institutions' systems including core systems (API integration, data integration)
・ Sales resources (Sales resources accumulated in 47 prefectures)