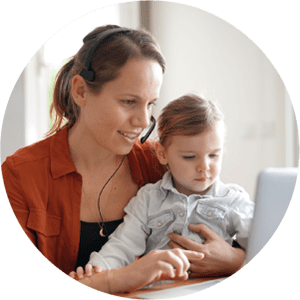 Enhancing Child-rearing/Educational support services for working families
Due to the advance in the declining birthrate and ageing population, creating a system that allows child-rearing generation to work with peace of mind is becoming an important issue. To address this, we are considering new services that support child-rearing and education for families with small children. We are calling for ideas and partners to create these services.
For example, regarding child-rearing support, we are envisioning a kind of service that matches people who want to work making use of the skills they have to offer, to work in their spare time, or to do a side job, with those who need support for childcare and housework or want to develop their children's skills and enrich their children's experience.
Regarding educational support, we are considering educational services that utilize ICT or other technologies, and that can be presented as new options. The main targets are parents who have concerns about their children's preschool education but have to place their children in daycare while they work, or who cannot provide their children with sufficient educational opportunities due to limited income or opportunities in their area. "
Related keywords

Regional revitalization

Sharing economy

Skill share

EdTech

Women's empowerment

AI learning materials

ICT education

Tailor made materials

STEAM education

Distance education
Market size of collaboration business or business scale

Skill share service market size (Forecast) (2020: 57 billion yen, 2024: 100 billion yen)
Edtech market size (Forecast) (2020: 240 billion yen, 2023: 300 billion yen)
Assets and opportunities to be offerred

・ PoC utilizing customer base represented by regional financial institutions and possibility of business deployment
・ Utilization of sales resources nationwide
・ Introduction of financial institutions which would serve as candidate partners