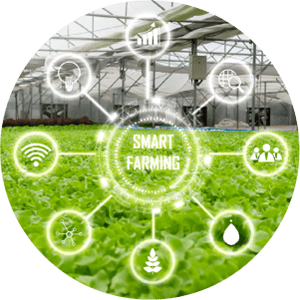 Digital Transformation of Food and Agriculture for the Benefit of Workers
Agriculture is an area included in the growth strategy set forth by the Japanese government. Smart agriculture, which utilizes ICT to address various challenges such as increasing overall income in the agricultural sector, improving productivity and efficiency, is being promoted. On the other hand, only a portion of the sector makes use of ICT at this moment, revealing numerous issues that must be dealt with before we see wider adoption of ICT in agriculture.
We are calling for a broad range of business ideas, solutions or applicable technologies in the food and agriculture area that deliver value to workers and organizations in the sector.
Related keywords

Smart agriculture

Smart food chain

Paddy rice

Farming

Fruit trees

Controlled-environment agriculture

Soil cultivation

Distribution

Wholesale

Sharing

Ecosystem

EC

GIS

Weather

Digitalization

UI/UX

AR

VR

Sound

AI

Data analysis

IoT

Drones

SDGs
Market size of collaboration business or business scale

Expected to be over 100 million yen.
Assets and opportunities to be offerred

・ Investment in collaborating businesses, support to materialize the concept
・ Provision of demonstration fields in partnership with agricultural corporations and JA Group, among others
・ Collaboration with NTT Group's solutions (covers a broad range including financial besides food and agriculture) and element technologies
・ Extensive sales and maintenance networks nationwide covering agricultural communities on isolated islands