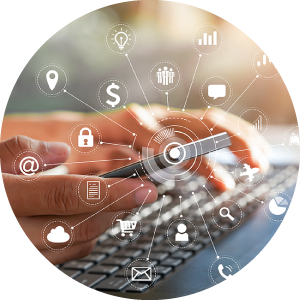 Collaboration with ECONO-CREA Marketplace
ECONO-CREA Marketplace is a platform designed to allow power companies, gas companies, broadcasting companies, and other daily life service providers, who have broad subscriber bases, to provide their end-users with value-added services for such as daily life and social trend. NTT DATA consolidated these value-added services in collaboration with service providers such as startups and has started providing services on ECONO-CREA Marketplace in July 2020.
We are looking for companies able to provide services to improve consumers' convenience of life and services to respond to changes in consumer behavior due to the corona virus pandemic on ECONO-CREA Marketplace.
Related keywords

Main type of provision

Main targets

Consumers such as elderly people

families

women

Main categories

Semi-daily necessities (daily life service companies can easily bundle) Example: Home security, Insurance, Home appliance subscription

Social trend service Example: Environment, Disaster prevention, Education, Healthcare, Regional revitalization, Restaurant support, Food loss, Redelivery, End-of-Life planning

Matching service Example: C-to-C matching, Sharing, Shopping agency service, Takeout service
Market size of collaboration business or business scale

We aim to achieve a total business scale of 10 billion yen for the entire ECONO-CREA service in 5 years.
Assets and opportunities to be offerred

ECONO-CREA Marketplace, which is a platform that allows you to approach a number of customer bases of many companies such as Hokkaido Electric Power Company, which has been using it. With your services, you can expect to get sales channels and advertising effects. In addition, providing your services in a bundle with services of the operator through PF will be effective in retaining customers and help stabilizing the profit of your services.

[Website]
https://www.econo-crea.jp/marketplace/

[News Release]
Subscription function added to ECONO-CREA® cloud service for electric power suppliers
- Hokkaido Electric Power introduces it as a first user from July 1, 2020 -
https://www.nttdata.com/jp/ja/news/release/2020/062501/