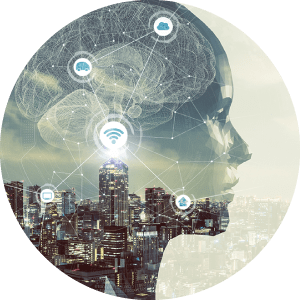 Evolution to Human-level AI
We are looking for technology and business development partners who can conduct joint research and development of technologies and solutions with us to make AI capable of human-like thinking for applications in more complex and advanced areas.
With the rise of deep learning, high accuracy has been achieved in image recognition, natural language processing and other fields. At the same time, researchers are also searching for the ways to learning without a large amount of training data to expand AI's capability.
It is expected that multi-purpose AI technologies and solutions applicable in more complex and advanced areas will be studied, for example, meta-learning implementable with a small amount of training data, unsupervised learning, technology to generate training data, and AI that is able to interpret multimodal signals close to those obtained through the human senses.
Please refer to "NTT DATA Technology Foresight" which is continuously investigated from an advanced technology and social trends.
https://www.nttdata.com/global/en/foresight/trend-listing/2020/january/tt01
Related keywords

Meta-learning

Unsupervised learning

Self-supervised learning

Reinforcement learning

Imitation learning

Active learning

Embodied AI

Training data generation

Multimodal learning
Market size of collaboration business or business scale

The global market size of AI software is expected to grow to $118.6 billion by 2025. We are aiming to increase our share in the market through research and development for new technologies and solutions.
Assets and opportunities to be offerred

We are planning to strengthen the ability of NTT DATA to promote AI projects by increasing our AI system development manpower to a scale of 3,000 workers by the end of 2022 through AI CoE (Center of Excellence) activities.

Through collaborative research with NTT DATA R&D Department, collaborative business development and investment, and other sorts of collaboration with our partners as well as our AI CoE activities, we are aiming to promote our market development in the relevant areas.