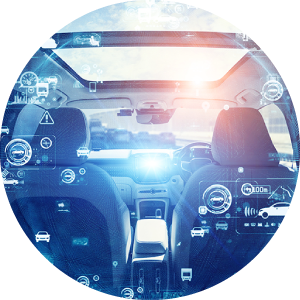 Proposal of services for safety evaluation and standardization of smart mobility
In the automobile industry, many companies have entered the market for automated driving and electrification, and the consumer behavior is changing from "owning" to "using services." Under these circumstances, ensuring the safety of not only vehicles as products but also smart city mobility as a whole has become a social challenge. We believe that the specification management and safety certification of products (hardware and software) and mobility infrastructure will be standardized internationally in the future, and we are looking for partners who will contribute to solving this challenge from the ICT perspective and turn it into a business.
For example, we are looking for component technologies and ideas that can be applied to drive simulations, multimodal optimization, data sharing and maintaining confidentiality across complex supply chains, and standardization and version control of software groups scattered across vehicles and clouds.
Related keywords

Drive simulation

Virtual space

Optimization calculations

Supply chain management

Data sharing and maintaining confidentiality

Engineering specification management

Embedded software standardization and configuration management
Market size of collaboration business or business scale

About 2-3 years: 1-2 billion JPY business (PoC and services for individual customers)
About 5 years: 5 billion JPY business (shared service that covers multiple customers and countries)
Assets and opportunities to be offerred

- Possibility to collaborate with German auto manufacturers, based on NTT DATA's close business relationships with them
- Know-how and resources in the automotive industry, such as engineering systems, in-vehicle software, and cloud platforms
- Ability to integrate large-scale systems