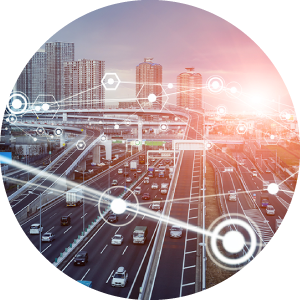 Advanced Technologies and Business Models for Connected Cars
Toward the realization of the next-generation mobility society, the development races for connected cars and autonomous driving have become competitive rapidly. Already, general passenger cars equipped with connected functions have been sold, and Lv4 autonomous driving cars have been tested on public roads.
NTT DATA is developing a platform for connected cars in collaboration with domestic automobile manufacturers. Assuming a case where millions or tens of millions of conventional types of vehicles are replaced with connected cars and autonomous driving vehicles in the near future, we are looking for development partners who are able to develop technologies to support safe and efficient automated driving.
The technologies and business ideas we are looking for are as follows:
・ Technologies to efficiently collect, store, and use various types of data from a large number of vehicles
・ Technologies to create and manage high-precision 3D maps and technologies to efficiently implement dynamic maps
・ Technologies to estimate locations of objects with high accuracy
・ Services and business models to make use of large amounts of data from vehicles
Related keywords

High-precision 3D map

Dynamic map

Self localization

Distributed machine learning

Deep learning

High-speed distributed processing

Edge computing

Digital twin

Data compression technology
Market size of collaboration business or business scale

By 2025, 50% of new cars sold on the market (about 48 million cars) will be connected cars, and the size of the connected car market will expand to $160 billion. The number of cars in the global market for ADAS (advanced driver assistance system)/autonomous driving system is expected to reach about 82.5 million by 2030.
Assets and opportunities to be offerred

<Opportunities>

・ Business opportunities with domestic and foreign OEMs

<Assets>

・ Integration technologies for on-board devices
・ Large-scale distributed processing technology for Cloud centers