Archive
*Links and other information on this page are not updated.
The Tel Aviv Contest was held at Rise Accelerator on Feb 5, with 8 Finalists and audience of 80 people including startups from Tel Aviv and venture capital.
PayKey became the Winner of Tel Aviv business contest with their excellent presentation and was invited to the Grand Finale in Tokyo on March 15.
8社のFinalistとテルアビブのベンチャー企業とベンチャーキャピタル等の80名が参加し、Rise Accelerator でテルアビブコンテストが開催されました。
PayKey社が堂々のWinnerに選出されました。東京で会いましょう。

Date and time
February 5, 2017
Venue
Rise accelerator
Barclays – Ehad ha'am 54, Tel-Aviv
Judges

Tal Chen

Partner
Deloitte

Liat Aaronson

Partner
Marker LLC

Uri Adoni

Partner
JVP

Kotaro Zamma

Head of Section of Open Innovation and Business Incubation
NTT DATA Corp.

Special session

Tony Seeff

Strategic Partnerships & Venture Investments
Sony

Agenda
Prizes

The winner will receive

●The chance to pitch at the Grand Finale in Tokyo.
●NTT DATA will cover travel and accommodation expenses(2 days) for two people for Grand Finale.
●Supplementary prize from local contest partner.

Along with an invitation to the Grand Finale, the Tel Aviv winner will be invited to partner with NTT/NTT DATA through the Israel Innovation Authority's Japan-Israel R&D Coorporation Program.
The winner working with NTT/NTT DATA to develop new technologies will become candidates to receive funding of up to 50% of R&D expenses.
NTT is a member of the Global Enterprise Collaboration Program, offering direct R&D collaborations between Israeli companies and NTT/NTT DATA.
The winner will be invited to submit requests for support within the Innovation Authority's Framework for R&D Cooperation with Multinational Companies.
More information on this framework is available in Hebrew here and in English here.
Details of the pitch day is subject to change without notice.
Date

October 30th 2016 between 10:00 to 13:00
Venue

Deloitte Greenhouse
Azrieli Center, Tel Aviv
Round Building
42 floor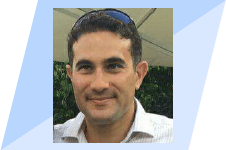 Tony Seeff

Strategic Partnerships & Venture Investments
Sony
Tony established first SONY office in Israel and developing a growing local team. Driving new business development for semiconductor devices, building strategic partnerships, in Israel, Europe and the Middle-East, in emerging technology areas including automotive, virtual-reality and gaming, bio-sensing and imaging.
Leading deal-sourcing, negotiation support, due-diligence management, transaction execution and project management. Partnerships include Licensing, joint technology developments, IP collaborations, investments and M&A.
Bridging cultural gaps between the corporate HQ and start-ups and between Israel/EU and Japan. Experience developing meaningful deep relationships with C-level executives within Sony Corporation and in the start-up community and eco-system.